RESIDENTIAL PROJECT ENGINEER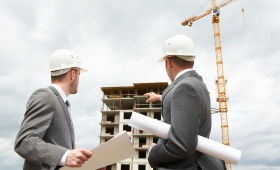 Our group of engineers in Montreal assists business people and individuals in their need for residential project engineers. Whether you are an individual in need of structural engineers for a residential project or a real-estate developer in need of comprehensive structural, mechanical & ventilation or electrical plans in the context of a residential project for condos, our group in Montreal responds to your needs.
The types of projects:
House;
Rental residence;
Condo building;
Residence for elderly people.
The residential project engineers group does:
Inspect foundations and report on related solution corrections;
Plan the structure of a home expansion;
Design and approval of the plans for a new condo building including structural, mechanical & ventilation and electrical plans for obtaining permits;
Design a green residential flat roof;
Feasibility study of an engineering real-estate project;
Analysis of performance and energy saving of homes and corrective measures;
Worksite management;
Project management.
Whether it is for a small or a large project our group in Montreal helps you to find engineers for your residential project in the Montreal area or nearby. For your structural work, building energy saving, conception, design, approval of plans for obtaining permits or upgrading to standards, we have the engineers of the residential sector you are looking for.
Do not hesitate to contact us!