Engineering Services for Buildings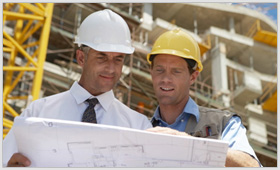 The engineering services of the Experts in Buildings in Montreal Group specializes in the residential, commercial and industrial field related to the construction industry sector with the help of structural engineers, mechanical and ventilation engineers and electrical engineers. The engineering services by civil engineers are also for building related projects like, for instance, the opening of a street in a real-estate development containing a waterworks network or the construction of parking lots.
Experts in buildings in Montreal is a group of engineers and general contractors in construction who are united in engineering services to better serve individuals, business people, merchants, general building contractors and real-estate developers over a large area around the region of Montreal such as: Montreal, Laval, Blainville, Terrebonne, Mirabel, Saint-Jérôme, Beaconsfield, Kirkland and the West Island, Vaudreuil, Saint-Hubert, Longueuil, Brossard, Boucherville, Beloeil, Repentigny, Châteauguay, Mercier, La Prairie and even Trois-Rivières.
The engineering services are offered by different types of engineers:
Structural engineer;
Civil engineer;
Building engineer;
Mechanical and ventilation engineer;
Electrical & Automation engineer.
The engineering services are related to building projects such as the:
Inspection of buildings concerning: foundation, roofing, exterior envelope, structural elements, ventilation, electrical system;
Installation of ecological projects of heat recovery or energy saving;
Correction for buildings: inspection report, plan;
Design and approval of plans for obtaining renovation and construction permits;
Feasibility study for a real-estate investment;
Mounting of a real-estate project including: analysis of zoning regulations, sketches of proposed buildings and urbanization, study of construction costs, estimate of labor, comparables on the market, marketing research;
Calculation, plans and supervision of installation of solar panel systems or wind energy storage to power buildings;
Management of the works on the construction site;
Project management.
The engineering services are for building projects such as a:
Private house;
Condo dwelling or a revenue creating housing;
Building for the elderly;
Office Building;
Trade: office, restaurant, garage, daycare, shopping center;
Medical clinic;
Agricultural complex.
Experts in Buildings in Montreal provides outstanding engineering services over a wide area around the Island of Montreal.
Do not hesitate to contact us!